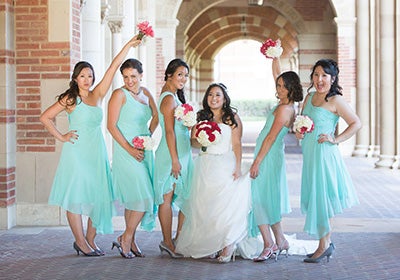 UCLA welcomes wedding parties and couples getting engaged to take their photos on campus.
The university does not require a permit for the capturing of personal wedding or engagement photos, however the below rules and regulations apply:
Respect any event taking place on UCLA grounds by refraining from shooting photographs near or around event premises.
Remain outside of UCLA buildings at all times. Photographs are not allowed to be taken inside any of the campus' facilities.
Keep pathways and building entrances clear of any equipment or props at all times.
All photographs must be for the wedding party's personal use only. Photographs cannot be posted on the photographer's website for marketing purposes. They can, however, be put on the photographer's website if they are password protected so that only the couple and their guests have access to the photos.
No drones are allowed on campus.